It is impossible to avoid the truth about the US economy today. We have high inflation and the cost of living has risen to its highest levels in 40 years. Facing this reality, you may be wondering if it a good idea to buy a home in this economic climate?
A Key To Building Wealth Is Homeownership
The link between financial security and homeownership is especially important today as inflation rises. But many people may not realize just how much owning a home contributes to your overall net worth. As Leslie Rouda Smith, President of the National Association of Realtors (NAR), says:
"Homeownership is rewarding in so many ways and can serve as a vital component in achieving financial stability."
Here are just a few reasons why, if you're looking to increase your financial stability, homeownership is a worthwhile goal.
Owning a Home Is a Building Block for Financial Success
A recent NAR report details several homeownership trends and statistics, including the difference in net worth between homeowners and renters. It finds:
". . . the net worth of a homeowner was about $300,000 while that of a renter's was $8,000 in 2021."
To put that into perspective, the average homeowner's net worth is roughly 40 times that of a renter (see visual below):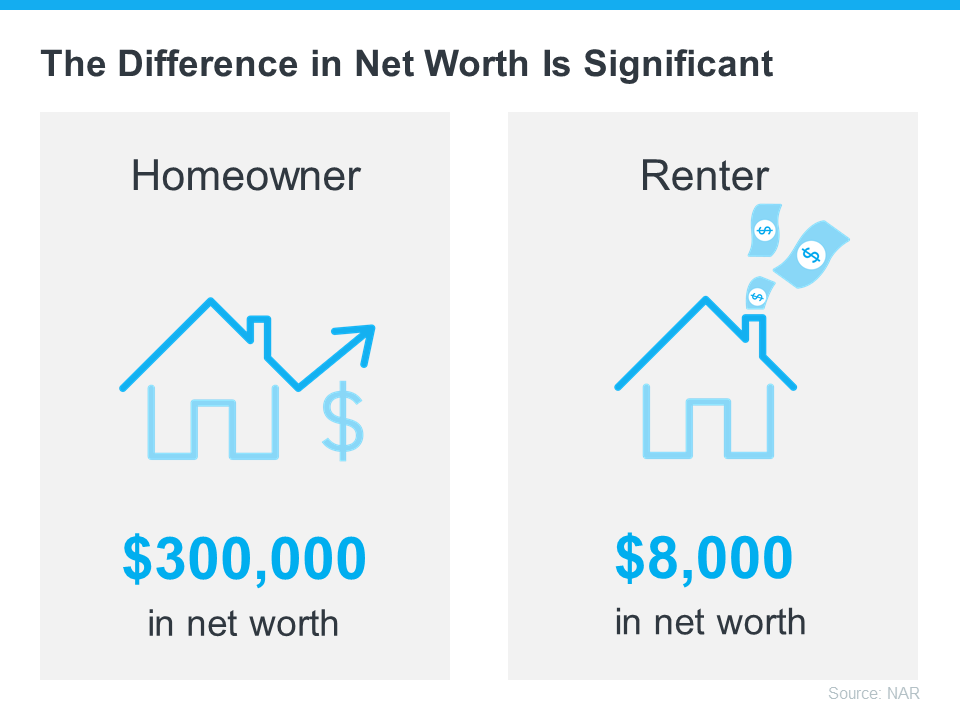 The results from this report show that owning a home is a key piece to the puzzle when building your overall net worth.
Equity Gains Can Substantially Boost a Homeowner's Net Worth
The net worth gap between owners and renters exists in large part because homeowners build equity. As a homeowner, your equity grows as your home appreciates in value and you make your mortgage payments each month.
In other words, when you own your home, you have the benefit of your mortgage payment acting as a contribution to a forced savings account. And when you sell, any equity you've built up comes back to you. As a renter, you'll never see a return on the money you pay out in rent every month.
To sum it up, NAR says it simply:
"Homeownership has always been an important way to build wealth."
The gap between a homeowner's net worth and a renter's shows how truly foundational homeownership is to wealth-building. If you're ready to start on your journey to homeownership, let's connect today.


The latest data shows the inflation rate is still going up. You no doubt are feeling the pinch on your wallet at the gas pump or the grocery store, but that news may also leave you wondering: should I still buy a home right now?
Greg McBride, Chief Financial Analyst at Bankrate, explains how inflation is affecting the housing market:
"Inflation will have a strong influence on where mortgage rates go in the months ahead. . . . Whenever inflation finally starts to ease, so will mortgage rates — but even then, home prices are still subject to demand and very tight supply."
No one knows how long it'll take to bring down inflation, and that means the future trajectory of mortgage rates is also unclear. While that uncertainty isn't comfortable, here's why both inflation and mortgage rates are important for you and your homeownership plans.
When you buy a home, the mortgage rate and the price of the home matter. Higher mortgage rates impact how much you'll pay for your monthly mortgage payment – and that directly affects how much you can comfortably afford. And while there's no denying it's more expensive to buy and finance a home this year than it was last year, it doesn't mean you should pause your search. Here's why.
Homeownership Is Historically a Great Hedge Against Inflation
In an inflationary economy, prices rise across the board. Historically, homeownership is a great hedge against those rising costs because you can lock in what's likely your largest monthly payment (your mortgage) for the duration of your loan. That helps stabilize some of your monthly expenses. Not to mention, as home prices continue to appreciate, your home's value will too. That's why Mark Cussen, Financial Writer at Investopedia, says:
"Real estate is one of the time-honored inflation hedges. It's a tangible asset, and those tend to hold their value when inflation reigns, unlike paper assets. More specifically, as prices rise, so do property values."
Also, no one is calling for homes to lose value. As Selma Hepp, Deputy Chief Economist at CoreLogic, says:
"The current home price growth rate is unsustainable, and higher mortgage rates coupled with more inventory will lead to slower home price growth but unlikely declines in home prices."
In a nutshell, your home search doesn't have to go on hold because of rising inflation or higher mortgage rates. There's more to consider when it comes to why you want to buy a home. In addition to shielding yourself from the impact of inflation and growing your wealth through ongoing price appreciation, there are other reasons to buy a home right now like addressing your changing needs and so much more.
Homeownership is one of the best decisions you can make in an inflationary economy. You get the benefit of the added security of owning your home in a time when experts are forecasting prices to continue to rise.
If you've been thinking about buying a home, you likely have one question on the top of your mind: should I buy right now, or should I wait? While no one can answer that question for you, here's some information that could help you make your decision.
As the graph shows, the rate of appreciation will moderate over the next few years as the market shifts away from the unsustainable pace it saw during the pandemic. After this year, experts project home price appreciation will continue, but at levels that are more typical for the market. As Lawrence Yun, Chief Economist at the National Association of Realtors (NAR), says:
"People should not anticipate another double-digit price appreciation. Those days are over. . . . We may return to more normal price appreciation of 4%, 5% a year."
For you, that ongoing appreciation should give you peace of mind your investment in homeownership is worthwhile because you're buying an asset that's projected to grow in value in the years ahead.
If you're ready to become a homeowner, know that buying today can set you up for long-term success as your asset's value (and your own net worth) is projected to grow with the ongoing home price appreciation. Let's connect to begin your homebuying process today.